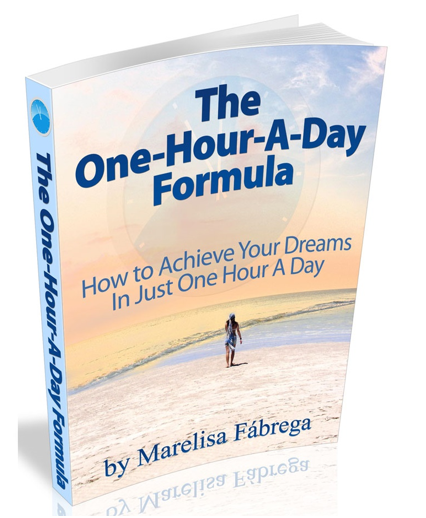 You can create a documentary, write a novel, simplify your life, start your own business, become a millionaire, or achieve any of your dreams in justone hour a day.
Here's how . . .
Most people believe that in order to make an important change in their lives--pursue their dream career, become a published author, learn another language, find a way to create multiple streams of passive income, learn to play the guitar, and so on--they need to have a large chunk of free time at their disposal.
At the same time, few people have the luxury of taking a long sabbatical--lasting a year or more--which they can devote exclusively to achieving an important life goal. However, in order to change your life, all that you really need is one hour a day.
"With perseverance , the very odds and ends of time may be worked up into results of the greatest value." - The Royal Path of Life
The One-Hour-A-Day Fast Track to Goal Achievement
Here are eleven reasons why the one-hour-a-day formula will work for anyone, including you:
An hour a day is enough time to start seeing results in a few weeks.
An hour a day is small enough to fit into your schedule.
An hour a day is enough time to get into "the zone".
An hour a day let's you ease into your goals, instead of upheaving your entire life to go after your dreams.
Since an hour-a-day is a small amount of time, you can lower your expectations, which means that it will be easier to get started.
Setting a time limit to work on a project, such as one-hour-a-day, will make you more creative and more productive.
If you devote one-hour-a-day to work on a goal, and then you decide that you don't want to pursue that goal after all, you'll have low sunk costs so it will be easier to quit. Then, you can get to work on another, more worthwhile goal.
Allotting one-hour-a-day to the achievement of your goals gets you started now, instead of postponing your dreams until "someday" when you have more time.
Devoting one-hour-a-day to achieving an important life goal gives you momentum--every day you'll be doing something to move your goal forward.
Knowing that you have one-hour-a-day to work on your goal forces you to break it down into small, manageable tasks, which you can then tackle one by one.
One-hour-a-day has a cumulative effect -- after all, one-hour-a-day comes to 365 hours a year. As an illustration, in one-hour-a-day you can write one page of your novel; in a year you'll have a 365-page novel.
30 Goals You Can Achieve in One-Hour-A Day
Although practically any goal can be achieved in one-hour-a-day, here are 30 examples:
Start an exercise regime.
Learn to cook healthy meals.
Start a weight-lifting program.
Learn a second language (or a third, or a fourth).
Become well-read.
Learn web design.
Learn to code.
Learn to produce and edit videos.
Take a MOOC in a subject that interests you -- such as music appreciation, history, Shakespeare's plays, Greek mythology, or Buddhism.
Learn about gamification to inspire your employees or promote customer loyalty for your brand.
Learn about idea generation methods.
Upgrade your job skills.
Turn your hobby into a business.
Write articles and have them published in periodicals in your field.
Learn conflict resolution skills.
Create a passive source of income.
Learn how to invest your money.
Develop and follow a personal development plan.
Start a Happiness Project.
Take up journaling.
Write your novel.
Start a blog.
Learn to draw.
Learn to play a musical instrument.
Learn film-making.
Learn photography.
Do something creative every day.
Take up yoga.
Learn Tai Chi.
Start a meditation practice.
Here's Some of What You'll Find Inside
Discover the difference between your Survival Dance -- holding down a job that pays the bills--and your Sacred Dance --doing the work you were born to do--, and how to use your one-hour-a-day to shift from one to the other.
Learn how to get things rolling on important projects in just one-hour-a-day, even if you don't have the know-how or the money that you need (it's how a journalist from Boston found himself on a bridge in London, cameras rolling).
Use the same strategy that three men applied to escape the legal profession and write blockbuster thrillers (you've probably seen at least one film based on one of their books).
How coupling the one-hour-a-day formula with the formula for success allowed one man to go from being an inner-city teacher to becoming a multimillionaire.
How to use the one-hour-a-day formula and the side hustle to find life balance and work satisfaction (it's how three men got out of debt, found their vocation, and transformed their lives).
Three advanced productivity techniques which allowed one man the luxury of leaving the rat race and start working for himself, in just one-hour-a-day (this man now spends all of his time crafting a life he loves).
Discover how one man went to work each day to make a living, while at the same time applying the one-hour-a-day formula to make a fortune.
Learn how one woman went from being a school administrator to becoming one of the most important Latin American writers of our time, simply by doing one thing (it's the same thing another woman did to go from working as a hospital administrator to becoming known as the queen of crime fiction).
These busy men regularly learn new skills to improve themselves, grow their business, give themselves a challenge, and have more fun (you can follow the exact same approach they do).
"Much may be done in those little shreds and patches of time which every day produces, and which most men throw away. - Charles Caleb Colton
Plus . . .
Learn how to increase your time's ROI (Return On Investment) and become a wise time investor.
Uncover how to use the compound effect to radically alter your life -- it's the reason why small actions lead to large results.
Discover a new way to think of your day which will make all the difference in finding the time to go after what you really want.
Make a paradigm shift that will allow you to regain control of your time.
Use a method taught in Journalism 101 which will allow you to devise a plan for your one-hour-a-day.
Uncover how to find the fuel and motivation to get to work on your one-hour-a-day, day after day.
Discover how the Starbursting technique can help you to answer all the questions you may have on how to best use your one-hour-a-day so that you get the results that you're after.
Use the same method used by a simplicity guru to carve out an hour of your day.
The same tool that you would use to get out of debt and create a "surplus fund" to finance your life goals will cure you of "time poverty". Discover how to start applying this tool right away to create "surplus time" which you can use to go after what you really want.
What decluttering and organizing a chest of drawers can teach you about making the best use of your time.
"One extra hour of study per day will make you an expert in your field in five years." - Earl Nightingale
Here Are Some More Powerful Techniques For Making the Most of Your One-Hour-A-Day
The time matrix that will revolutionize how you plan your day (it's not the Stephen Covey time matrix).
Eleven powerful strategies for pinpointing and beating time inefficiencies.
How one man started applying something he referred to as his "Magic Time" to create an online fitness empire while spending his days training his clients.
Discover how a mom who was working full-time found the time to start her own business (you can use the exact same approach she did to achieve your life goals, even if you have a family and a job).
The one law you should break to make sure that you achieve your life goals (you won't go to jail for it, I promise).
What Leo Babauta and Steve Pavlina--two of the world's top bloggers--discovered which had a huge impact on their ability to achieve success (it's the same strategy which was used by Benjamin Franklin and Thomas Jefferson).
Use the same method applied by astronauts to readjust your schedule so that you never miss your one-hour-a-day.
Learn about the ALERT method, and how it will get your mind and body ready to take full advantage of your one-hour-a-day.
A strategy you can use to make sure that your one-hour-a-day doesn't fall by the wayside (it's the same method used by the financially savvy to set money aside for savings each month).
Use the same tactic that Warren Buffett's right-hand man used to improve himself (the tactic worked so well, that today this man is a billionaire)
"Do a little each day to get you to your goals and over time you'll get there." - Robin Sharma
There's More . . .
A ten-step process for putting your one-hour-a-day on automatic pilot.
What you can learn from the masked swordsman Zorro about achieving your goals (you'll be pulling out your sword ahead of you and ruthlessly carving out an hour for yourself and fighting to protect that hour).
Start applying a process used by the world's finest chefs to devise a plan for your one-hour-a-day that's as easy to follow as cooking from a recipe. By the time you're done reading this chapter you won't just know what to do, you'll know exactly how to do it.
Discover four modern twists to a rule uncovered by an Italian economist born in the mid 19th century; this alone will allow you to do more in an hour-a-day than you ever thought possible.
Use a lesson you learned in "Geometry 101" to make sure that you make the best use of your one-hour-a-day.
Four strategies for strengthening your willpower to make sure that you follow through on your one-hour-a-day.
A 15-step process for getting out of your own way.
Step-by-step instructions on how to create your very own anti-procrastination plan.
Discover how a concept that you learned in kindergarten will keep you engaged and accelerate your progress with your one-hour-a-day.
Use the same technique applied by casinos in Las Vegas to generate millions of dollars and by Olympic trainers to produce gold-medalists (it's how you'll make sure that your one-hour-a-day is working).
How "The One-Hour-A-Day Formula" Is Organized
The eBook is divided into 34 chapters and the following nine parts: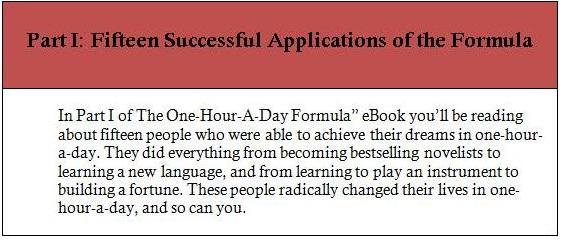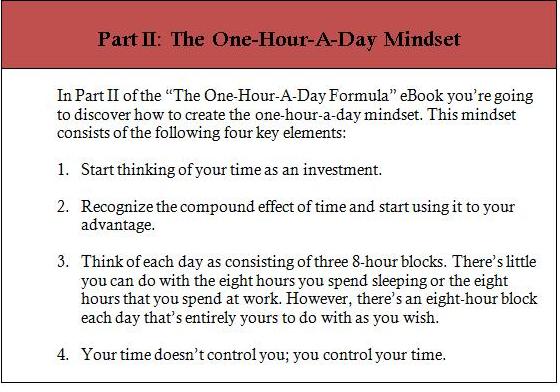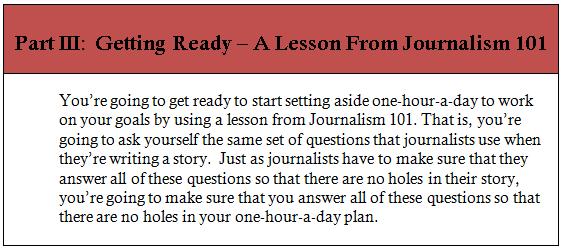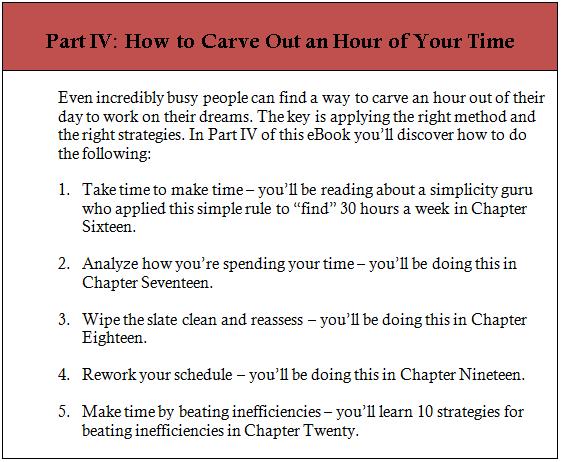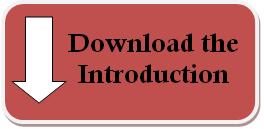 "The One-Hour-A-Day Formula" is a 152 - Page PDF (50,000+ words). By the end of this eBook you'll have created your own hour-a-day plan for achieving your life goals.
The One-Hour-A-Day Formula Workbook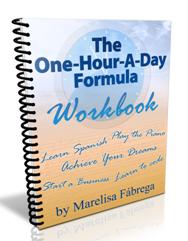 When you purchase "The One-Hour-A-Day Formula" eBook, you'll also receive "The One-Hour-A-Day Formula Workbook". It contains 35 Dream Sheets which will propel you into action-mode (it's a 45-Page PDF).
By the time you're done filling out your Dream Sheets you'll know exactly what goal to pursue during your one-hour-a-day, and how to carve an hour out of your day to work on your goal. In addition, you'll have a game plan detailing what you're going to do with your hour to make sure that you achieve your goal.
Testimonials

"Most of us have heard of the 'small steps' approach but how often do we consistently use it? Marelisa's book inspired me to consistently take an hour a day to work towards my goals and the results have been remarkable. The time is long enough to make real progress while short enough to fit into an average day. I have already recommended this book to my clients; I recommend it to anyone who wants to see a long-held goal finally to come to fruition." - Adele Sinclair, Mental Wellbeing Coach & Trainer http://wellnessatwork.com.au
"Hi Marelisa, I don't come across many self-help books that inspire me much these days, but after reading just one chapter of your book (The One Hour A Day Formula) my spirits were lifted. It has ignited a spark in me - a much needed one at that. You have a great way of connecting to your readers, so upbeat, so positive yet down to earth. It creates exciting reading and excitement within. I just want to say Thank You. Your book is going to change my life for me." - Caroline West
"Hi Marelisa, Thanks for writing the book "One Hour A Day Formula". I really devoured it right after I bought it. It was the best solution when we really want to achieve something but can't devote the whole day for it. I'm currently using that formula to accommodate my side job work responsibilities (which I took on so that I can fulfill my goal of "paying off all my credit card debt by the end of this year"). After I read your book I know exactly what to do to tackle it. Thanks so much for compiling all the information in that e-book. This is really your best work (in my humble/honest opinion), I really enjoyed reading it and I think it flows quite well and the concepts explained are very, very useful. I'm also planning to use that formula when I want to start working on my other personal and professional goals. Many thanks once again!" - Meli R., Jakarta, Indonesia
"I just finished 'The One-Hour-A-Day Formula' and really appreciated all the helpful tips, so clearly laid out. I am in a 'what do I do with the next phase of my life' stage, and your book will surely help me take the first steps. I'm looking forward to reading the book that came along with it (Make it Happen). I rarely buy products on impulse online but, in this case, I'm so glad I did!" - Julie Young
"It's easy to feel trapped and like a victim of your schedule. This great book by Marelisa Fabrega shows that we all have choices, no matter our circumstances. I especially liked Chapter Fourteen - Make Time by Beating Inefficiencies. There are many small things you can do to set yourself up for success. This book will inspire you with real life stories and I warn you, it may get uncomfortable. Marelisa kicks away all excuses for mediocrity!" - Steve Walker, Commercial Banker, Atlanta, Georgia, USA
Get "The One-Hour-A-Day Formula" -- plus the workbook --, and start making your dreams come true in just one-hour-a-day!
My 'No-Questions, No-Hassles'
30 Day Money Back Guarantee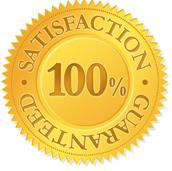 Even though "The One-Hour-A-Day Formula" doesn't cost very much at all, I want you to be doubly confident in your purchase. That's why I offer a full, no-questions-asked money back guarantee. You can try it out for 30 days, and if you're not fully convinced it's worth every cent you paid after that time, simply email me for a full refund: marelisafabrega@gmail.com.
P.S. Stop putting your life goals on hold until you can "find the time" to pursue them. Get your very own copy of the ebook "The One-Hour-A-Day Formula" and start achieving your life goals, now.
P.S. S. "The One-Hour-A-Day Formula" is part of the "How to Live Your Best Life" system, the easy-to-follow, proven system that's based on the wisdom and knowledge of the world's greatest minds, past and present. Find out more by clicking here.